Vanguard intakes only happen once a year and you typically submit your application in December and it takes a couple of months for the team at Veeam to process all of the applications and consider renewals (like me) and new applicants.
Well that day has come - my alarm went off and I flipped open my email and to my absolute delight I have been renewed into this fantastic tech programme again in 2022.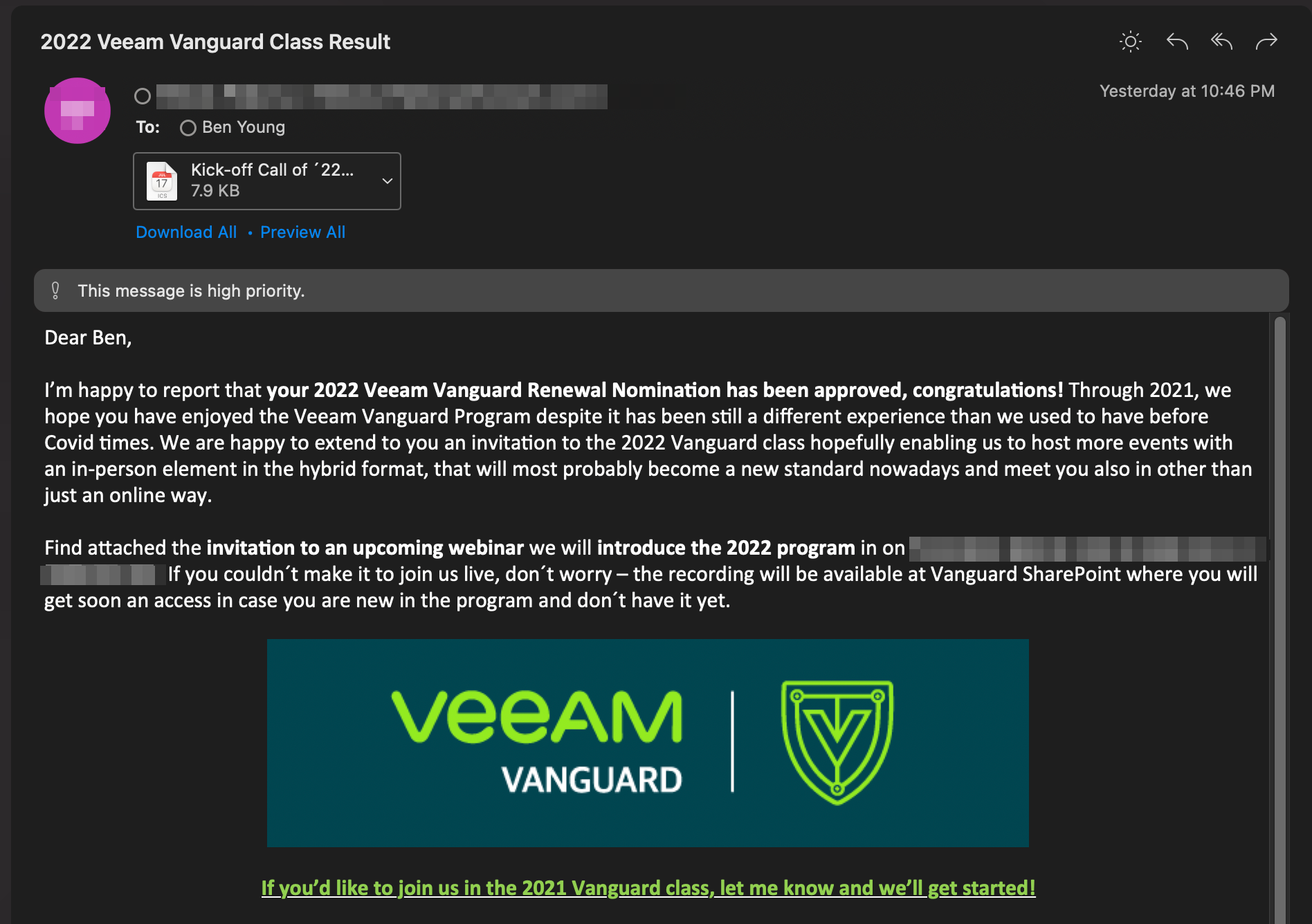 This year there are 65 of us so the group is still a tight bunch of people from all over the world who love working with Veeam products and their wonderful staff.
This year hopefully I will be able to attend the summit in Prague - I did not get there the last two years due to covid border restrictions here in New Zealand. Fingers crossed!
Highlights of 2021
I had some time to think about my highlights from the 2021 year, other than various blog post I am most proud of
Invited to and presented at the A/NZ All Hands Presentation for Q3 around service provider observations in the market
I created a demo environment and presented at the A/NZ Veeam v11 launch on Instant DB Recovery
I attended and presented at a bunch of Veeam User Groups
I presented to fellow Vanguards in a two part series on how to build API's and code against Veeam products
I was invited to attend the VCSP Tech Summit Invite allowing service providers to directly feed back about our experiences with Veeam
I created a cool Christmas demo website and API for VeeamONE alert push (veeamonereceiver) for Veeam User Groups
So quite the year, what will 2022 bring?
There are some things in the pipeline already but i hope to start getting some video content going as well as a few in person events, let's see what happens.
Thanks again to the amazing Nikola Pejkova, Rick Vanover, Danny Allan and the entire product strategy / technologist team for making this Vanguard programme happen.